MOONFEST MOONBEANS
PARENT-CHILD WORKSHOPS™
MOONFEST Moonbeans Parent-Child Workshops™ offer high-quality, guilt-free programming for parents and their young children over the course of a weekend.
During the two days, families will work separately for certain periods, enabling parents or grandparents to recharge their batteries and enjoy themselves. At the end of each parent session, there will be enough transition time for the parents to cool down, put on their "mom or dad hats," then share their experiences with their kids who are also learning about and creating on the same subject.
Focus: Parents with children (ages 7-9)
Participants will be divided into two groups, according to age, and will meet together at the first, pre-lunch, and final sessions of the day for theater games, relaxation exercises, group singing or vocalizations.
DAY ONE
Educational units last no more than 20 minutes and are followed immediately by 30-minute "art breaks."

Educational units consist of age-appropriate activities:

A patter song with moon-science facts
A slide show of the moon in visual art
A listening session of "classical" moon music
The moon in popular and folk songs
The moon in Asian, African, Greek, Roman and Native American cultures
The moon in Judaism, Christianity, Islam and the Hindu religions
The moon as a prosperity symbol


"Art Breaks" consist of age-appropriate theater games, dancing, haiku, writing-to- prompt, improvisation, free drawing, gesture drawing, singing, yoga, finger-painting, storytelling, jewelry-making and tee-shirt decorating led by artists, teachers and craftspeople.

At the end of Day 1, participants will sit in a circle and make up a group story about the moon on a particular subject. For example:

How the moon was made
Why we have only one moon
What happened to the "man in the moon"
How the moon got its name
The on-again, off-again love affair between the sun and the moon
Why the moon has phases
What would happen if there were no moon

The storytelling should take 30-45 minutes, depending on group size.


The stories created by both groups will be tape-recorded and transcribed by writers who will identify "story points" and make simple narrative scripts overnight for rehearsal and presentation on Day 2.

DAY TWO
The first session will be 30 minutes of stretching, vocalizing, guided imagery, relaxation and/or theater games.

The presentation scripts will be distributed to participants.

Using the scripts of their stories, workshop participants will spend two hours, with breaks, creating masks, costumes, set pieces and scenery for presentation of the story at day's end.

The next 2 hours will be spent crafting and rehearsing the presentations with a director, and possibly a choreographer and musician.

The presentations will be the culminating event of the workshop, after which will be a Moonfeast.
During "MOONFEST Moonbeans" Parent-Child Workshops, every child will be given crescent-shaped beans to paint. Their parents will be given a small jar and a "MOONFEST Moonbeans" label to decorate. At the end of Day 1, the kids will fill the jars painted by their parents with their own bean creations.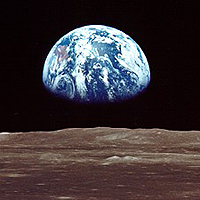 Earthrise from the moon, taken
on the Apollo 11 mission
Source: NASA
Our moon rotates at almost the same speed Earth does. That's why we always see the same face. The moon is hardly "inconstant," as Shakespeare saw it, nor is there a "dark side." The moon seems changeable because of its phases, and it seems to have a dark side because the "other side" wasn't visible to us until space exploration made that possible.