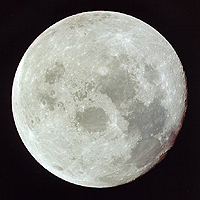 A view of full lunar disc taken on
the return trip of Apollo 11
Source: NASA
The moon's effect on our planet and its inhabitants has been the subject of folklore and scientific inquiry for thousands of years. Ancient Egyptians believed that meatballs made from snake meat left to cure in the light of the full moon could heal "werewolfism." Be that as it may, it's now established that the moon affects the Earth's tides and there's a relationship between moon phases and menstruation. A recently released 30-year Stanford University study indicates stock trades increase an average 8.3 percent on the occasion of the new moon. Controversial studies from the 1950s and 1970s cite increases in violent crimes during full and new moons and psychiatric admissions on the full moon.